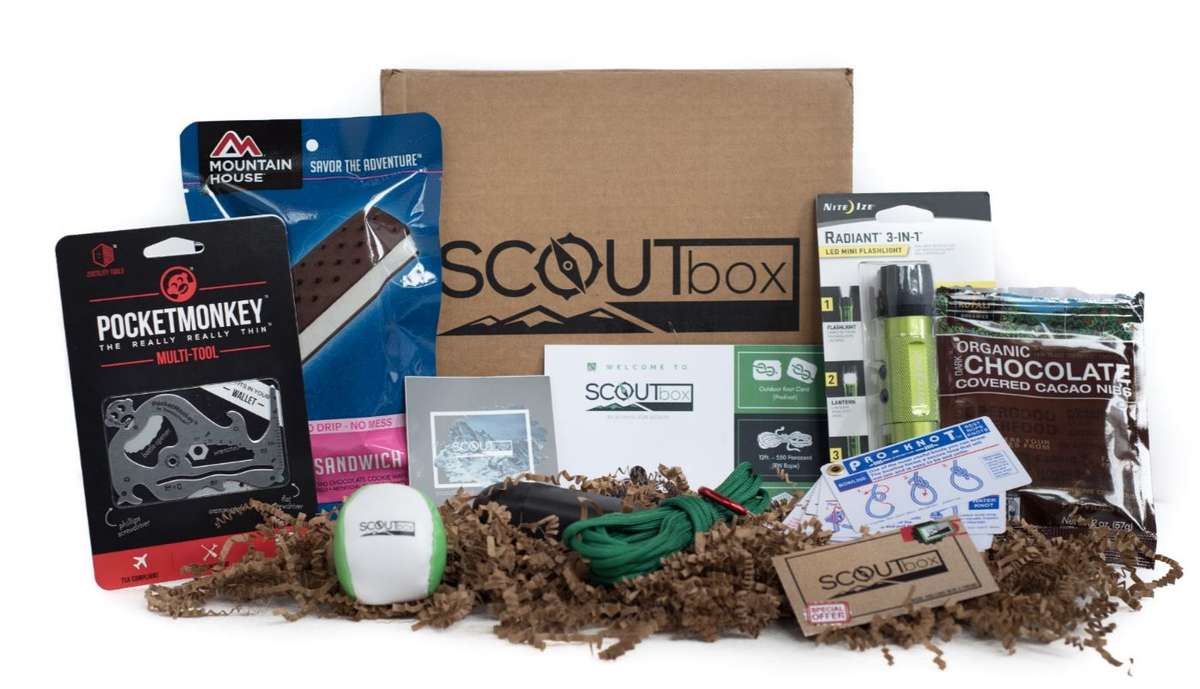 SCOUTbox is a monthly subscription box service built specifically for scouts, by scouts. It's the best thing since the invention of the cardboard box (c.1890, in case you were wondering...)!
What is a subscription box, anyway?
For a small monthly fee, we send you a box filled with awesome gear for camping and other outdoor adventures. All the gear, snacks, and other items are chosen by scouts and sent directly to your door on a recurring (monthly) basis. Pretty sweet, huh?


The goal of SCOUTbox is to provide quality gear and educational materials to enhance scouting for all of our subscribers (boys, girls, and adults from a variety of scouting programs).


SCOUTbox truly was started by scouts, for scouts.
Both SCOUTbox Co-Founders (Will & Chris) are Eagle Scouts from Troop #888 in Enfield, Connecticut and have been involved in scouting for their entire lives.


Chris started in Cub Scouts as a Tiger Cub, moved up the ranks through Boy Scouts, received his Eagle Scout Rank, and progressed on to be the President of the Xi Zeta Chapter of Alpha Phi Omega (a scouting-affiliated community service fraternity), work in a leadership role within Seneca Waterways Council, and serve as 2013 & 2017 National Scout Jamboree Staff. Scouting is in his blood!


Will also started his scouting career in Cub Scouts, stuck it out in BSA Troop #888 (serving as the Senior Patrol Leader and other leadership positions), attended the 2001 National scout Jamboree, and continued his service to scouting as an Assistant Scoutmaster – he has been an active Alumni ever since!


Oh, and did we mention they're brothers?!


How much does SCOUTbox cost?
SCOUTbox subscriptions can be ordered in monthly,
quarterly (3-month), or bi-annually (6-month) increments:
With that said, you can rest easy knowing that you'll always receive more in your SCOUTbox than you paid for. Even better, we throw in a free fire-starter every single month (hint: it's a cardboard box)!


How does billing/shipping work?
We try to make the logistics behind a SCOUTbox subscription as simple as possible, so we bill all subscriber accounts on the 1st of the month and ship all active SCOUTbox subscriptions on the 15th. Every single month.

Please note: your first SCOUTbox shipment may work a little bit differently based on this schedule. This is because we finalize our subscriber list, order materials, pack boxes, etc. in the two week period between the 1st and 15th. So if you're not on our list by 11:59pm on the last day of the month, your subscription won't start until the following month. Make sense?
What will the typical SCOUTbox have in it?
First off, SCOUTbox is anything but typical. We won't be sending you one item per month and it won't be the same boring gear every time you get your box!


Every SCOUTbox will feature hand-picked gear from leading outdoor experts, scouts, and scouters. Here is a sample list of items from one of our first scheduled SCOUTbox subscription shipments:


Multi-tool / Pocket-knife
Sharpening stone
Camp-ready wallet
Waterproof matches & carrying case
First Aid kit
Camp mug
Educational card (topics could range from recipes to wildlife/plant identification, knot tying guides, other tips/tricks from outdoor experts)
Every subscriber will also have the opportunity to add themed items to their boxes each month. For example, since this box listed above is camping/hiking themed, the add-on item would be an orienteering compass! (note: we haven't launched this add-on feature yet)


Is SCOUTbox just for scouts (boys)?
No! We launched SCOUTbox first with a "generic" version that will cater to the needs of anyone in the scouting community.


As SCOUTbox grows, we plan on creating separate subscriptions for older/younger, male/female, and other unique scouting/outdoor groups. This will ensure your SCOUTbox is catered to your unique needs/wants and is specifically designed by scouts/scouters like you!

If you ever receive anything in your box that isn't a great fit for you and/or your child, we recommend hanging on to it until a later stage or until your scout learns more about it. Our mom kept a pocket knife for me (Chris) until I earned my Totin' Chit; I loved earning it and still have the knife to this day!


How do I cancel or modify my subscription?
Though we'd really miss you, it's pretty easy to cancel or modify your subscription. Just send an email to info@scoutbox.us and we can make it happen... Thanks for being part of the SCOUTbox family!
What happens if I receive a faulty/damaged item?
This stuff happens sometimes (either from damage during shipping or because the item may be defective), but it's an easy fix. Email info@scoutbox.us and we'll help coordinate with the brand partner to get you a replacement item ASAP. We're always here to help you!
What if I still have questions?
About the meaning of life, the universe, and everything? You can send any of your questions (big and small) to
info@scoutbox.us
or
visit us on Facebook
. We love chatting with our SCOUTbox family!
SCOUTbox Email List Sign-up
How do I get on the SCOUTbox mailing list?
Fill out the form to the left in order to be signed up for our email distribution list. We send promotions, giveaways, blog articles, and other useful content on a periodic basis.

We never spam, don't sell your information, and your subscription is always on your terms. Check it out!